1-Inheritance
Two factors combine to cause the abnormalities in XP:
First, a person inherits traits from each parent leading to an unusual sensitivity to the damaging effects of ultraviolet light.
Second, exposure to the sun and UV light leads to changes. XP is a recessive condition; a person must have two XP genes (one XP gene from each parent) to develop the disease. Recent advances in understanding XP make it possible to test if someone is a carrier of some forms of XP by analyzing DNA.
2-Symptoms
Many persons with XP will get unusually severe sunburn after a short sun exposure. The sunburn will last much longer than expected, perhaps for several weeks. This type of sunburn will usually occur during a child's first sun exposure, and it may be a clue to the diagnosis of XP. However, some people with XP will not sunburn more easily than others, and the disease will be undetected until unusual skin changes appear after much time. Most people with XP will develop many freckles at an early age. Continued sun exposure will lead to further changes in the skin, including irregular dark spots, thin skin, excessive dryness, rough-surfaced growths (solar keratoses), and skin cancers. These skin changes resemble the skin of elderly people who have spent many years in the sun.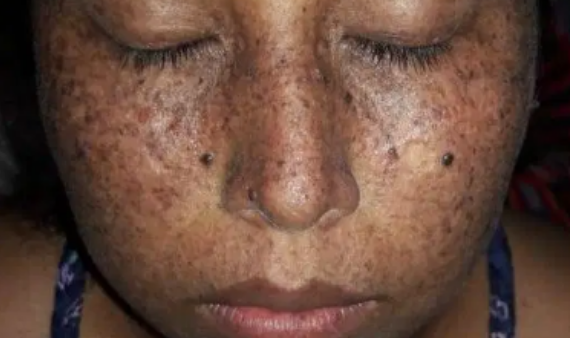 3-Cause
Laboratory tests indicate that sunlight is the major DNA damaging agent to the cells of persons with XP. Tobacco smoke (and some drugs) can cause similar DNA damage. People with XP should avoid exposure to tobacco smoke. People with XP should not use tobacco products because they may be at greater risk for developing lung cancer.
Where can I get more information?
Information and collections of clinical data about symptoms, treatment, and progression of XP are available from the following organizations and support groups:
XP Grupo Luz de Esperanza, Inc.
P.O. Box 256
Waterford, CT 06385-0256 USA
Tel. (1-860) 333-8715
info@xpgrupoluzdeesperanza.org
www.xpgrupoluzdeesperanza.org
National Institute of Health, NIH
Clinical Center
Bethesda, MD 20814
OCCC@cc.nih.gov