My name is Susana Herrero Molina. I am 30 years of age. I live in Zaragoza,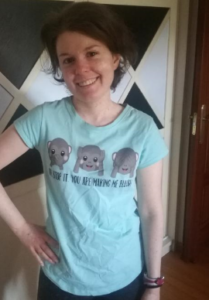 Spain.
I developed the disease of Xeroderma Pigmentosum at four years of age. My life with Xeroderma Pigmentosum has not been easy. It limits everything that I can do, so I cannot have the normal life I would like to experience.
I had a good, normal childhood. As a matter of fact, I did not suffer much rejection from society. Well, there was a time when one or another person made a cruel comment about my condition that really hurt my soul.
I have gone through multiple operations. The first surgical intervention was to remove a squamous cell carcinoma growing under my nose. Then the first of several melanoma skin cancers developed on my head and it was successfully removed when I was 18 years of age. Then I developed three more melanomas. One was on my left hand and the other one was on my right hand. These were both detected early when they were in stage zero. At 29 years of age, I was diagnosed with another melanoma on my head. Unfortunately, this one metastasized to a lymph node in the left side of my neck. The physician removed the entire ganglion chain and then I had to undergo immunotherapy treatment. I am almost finished with these immunotherapy treatments and so far, everything is going very well.
In my most difficult moments, I always have the support of my mother, father, whole family and friends. I am very grateful to God for sending me a very special man, my husband, Alejandro. I thank God for this good person and how he understands me!
This is my story. I continue to fight day after day with Xeroderma Pigmentosum but thank God, my daily battle with XP is more bearable with the support of my loved ones.